dr Anna Gąsior-Niemiec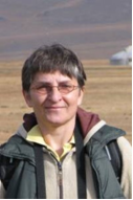 POSITION
Member of the Center for Social Change and Mobility Reserach
RESEARCH INTERESTS
Her academic interests are located mainly in the field of political sociology, sociology of space and sociology of migration. She is also interested in discourse analysis and critical political economy.
EDUCATION
She graduated in sociology (Central European University-Lancaster University) and philology (the Jagiellonian University and the Silesian University). She received her PhD from the Institute of Philosophy and Sociology, Polish Academy of Sciences.
RESEARCH
She took part in several research projects, including "RegioFutures" (2007-2012); "Discourses of (In)Security and Urban Development in Europe" (2006-2007); "Connecting Excellence in Research on Governance in the European Union" (2004-2007); "The European Dilemma. Patterns of Institutional Discrimination of Migrants in Europe 'XENOPHOB'" (2004-2005). She publishes regularly both in Poland and abroad.
PUBLIKACJE/PUBLICATIONS