Dr Wojciech Borkowski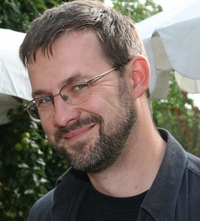 STANOWISKO/POSITION
Członek zespołu Ośrodka Badań Układów Złożonych i Nowych Technologii oraz Ośrodka Badania Ryzyka Systemów
ZAINTERESOWANIA BADAWCZE/RESEARCH INTERESTS
Wojciech Borkowski – jest z wykształcenia biologiem, doktoryzował się w 2002 r. w Instytucie Botaniki Uniwersytetu Warszawskiego, jednak od kilkunastu lat jego działalność naukowa skupia się wokół modelowania komputerowego dynamiki procesów społecznych i ewolucyjnych za pomocą minimalistycznych oraz realistycznych modeli agentowych. Zajmuje się zarówno teorią ewolucji biologicznej jak i jej analogami – ewolucją memetyczną i makroewolucją kulturową. Interesuje się też informatycznymi systemami adaptacyjnymi – algorytmami genetycznymi, sztucznymi sieciami neuronowymi, a także ich współdziałaniem.
PUBLIKACJE/PUBLICATIONS
W. Borkowski, Mózg, umysł, kultura – memetyczny system adaptacyjny, "Teksty z Ulicy. Zeszyt memetyczny" 2018, nr 19, s. 83–121.
Cohen, D., Hernandez, I., Gruschow, K., Nowak, A., Gelfand, M. J., & Borkowski, W. (2018). Rationally Irrational?. The ecologies and economics of honor. In: Socio-Economic Environment and Human Psychology: Social, Ecological, and Cultural Perspectives, CHAPTER 4, pp 77-102.
Nowak A., Gelfand M. J., Borkowski W., Kruglanski A. (2017), Autocratic Recidivism. Computational Models of Why Revolutions Fail (DOI:10.1093/acprof:oso/9780190269098.003.0010). In: Values, Political Action, and
Change in the Middle East and the Arab Spring (ed. Mansoor Moaddel and Michele J. Gelfand), Oxford University Press, doi: 10.1093/acprof:oso/9780190269098.001.0001, ISBN: 9780190269098, s. 392
Borkowski W. (2016), Memy – reinterpretacja systemowa, w Teksty z Ulicy, Zeszyt Memetyczny 17, Uniwersytet Śląski, Katowice, str. 35-59
Jarman, M.S., Nowak, A., Borkowski, W., Serfass, D. G., Wong, A. E., Valacher, R.R. (2015).The critical few: Anticonformists at the crossroads of minority opinion survival and collapse. JASSS 18 (1) 6,
Nowak, A., Andersen, J., Borkowski, W. (2015). Dynamics of Socio-Economic systems: attractors, rationality and meaning. Review of Behavioral Economics: Vol. 2: N0. 1-2, pp. 167-173, http://dx.doi.org/10.1561/105.0000026
Nowak A., Gelfand M., Borkowski W., Cohen D., Hernandez I. (2015), The Evolutionary Basis of Honor Cultures. Psychological Science 1-13, doi: 10.1177/0956797615602860
Wężowicz-Ziółkowska, D., Borkowski, W.,(2013). Kultura jako adaptacja. Kultura w paradygmacie przyrodoznawstwa (Culture as adaptation. Culture in paradigm of natural science) In: Adaptacje I . Język – Literatura – Sztuka, Edition: I, Chapter: 2, Publisher: Wydawnictwo Uniwersytetu Śląskiego, Editors: Wioletta Hajduk-Gawron, Agnieszka Madej, pp.25-40 ISBN: 1898-1593
De Raad, W.E., Nowak, A., Borkowski, W. (2013). Modeling dynamics of multicultural integration and conflict. In M. Gelfand and K. Sycara (Eds.), Modeling Dynamics of Multicultural Integration and Conflict (pp 183-197). New York: Springer.
Nowak, A., Ormerod, P., Borkowski, W. (2013). Self-image and the Emergence of Brand Loyalty in Networked Markets. In Complex Sciences, 281-290.
Nowak, A., Rychwalska, A., & Borkowski, W. (2013). Why Simulate? To Develop a Mental Model. Journal of Artificial Societies & Social Simulation, 16(3), 17–17.